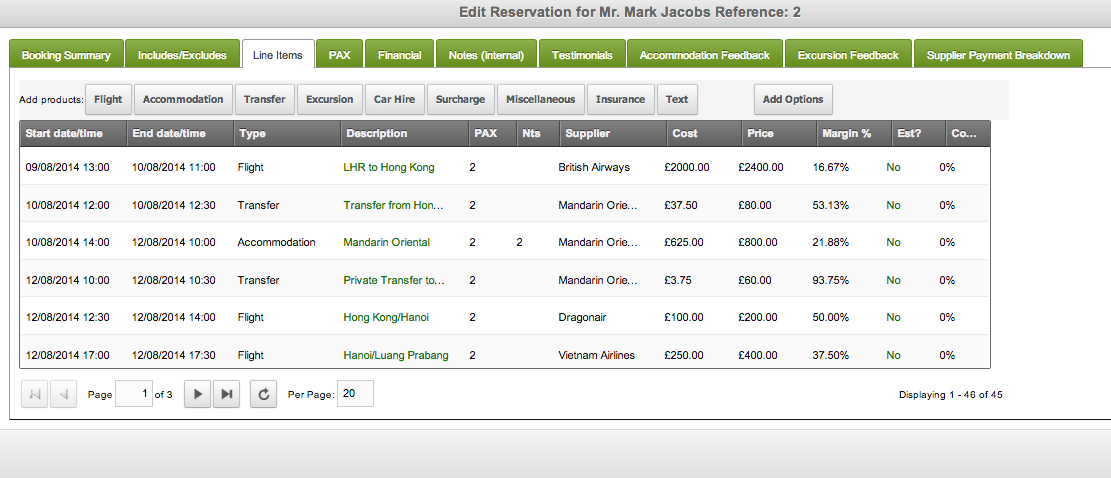 The Reservation System
Reservations are of course at the heart of Darwin. The system provides comprehensive support for both complete and part-complete bookings as well as giving a very easy to use and clear user interface to quickly see the current status of all bookings. 
As well as holding overall details of the reservation, the system holds a line-by-line breakdown of the components of the booking. If you choose, each of these lines can have individually set costs and prices and each has a status in terms of the 'booked' status with each supplier. This allows users to accurately manage and track the status of bookings as they progress over time at a line by line, supplier by supplier level. 
Against each booking, there is a comprehensive level of support for passengers (unlimited in number) including the recording of dietary, emergency and disability details, a financial history of payments from clients, and a supplier payment summary, showing how much is owed by supplier across the whole booking. And we don't just stop at the booking - the system can easily integrate to your web site (even if we are not hosting it) and automate the online collection and recording of client feedback.